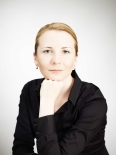 Vera Ivanova teaches at Chapman University (Associate Professor of Music, Music Theory and Composition Department). She graduated from Moscow Conservatory (BM and MM), Guildhall School in London (MM), and Eastman School (Ph.D.) with degrees in music composition. Her compositions have been performed worldwide and received many national and international awards.
---
Listen
World Premiere
September 5th, 2014 - 7:00pm
Bachiolage for cello solo - Maksim Velichkin
This piece was written specially for Maksim Velichkin and uses the Bach motif primarily as natural and artificial harmonics.
September 12th, 2014 - 8:00pm
Kak u oblaka (As if on the rim of a cloud), female voice and piano (2011) - Kristina Driskill
"Kak u oblaka" is performed as part of
Synchromy's
Re:lanch concert.
June 2nd, 2015 - 8:00pm
Three Studies in Uneven Meters, etudes for piano (2011) - Steven Vanhauwaert
No. 3 (Scriabinesque)
This concert is a part of Piano Spheres Satellite concert series.
July 7th, 2014
I was selected to be one of the two Composition Fellows to be in residence at the
Atlantic Music Festival in Maine.
I will give a seminar to AMF composition students and receive performances of the two of my works!
April 7th, 2014
Recent Promotion
I have been recently awarded tenure at Chapman University and promoted to the rank of Associate Professor of Music!
---
Press
'...Solo violin also features in VERA IVANOVA's tremendous QUIET LIGHT: an abstract, searching evocation of light as it penetrates the dome of an ancient church.'
'...humanistic and deeply felt works... they manage to express aspects of the human experience through an artistic medium that is not often associated with such deeply felt emotions...'
'...our five finalists are probably the best young composers working anywhere in the world today!'
Works
Aftertouch, for Piano (2005)
This title Aftertouch implies the composer's intent to make the listener pay attention to the life and death of each sound with regard to the variety in attacks and decays.
Aura, for clarinet solo (2011)
Greek in origin, the word "Aura" has multiple meanings, which stand for "air; atmosphere; sensation..." These meanings are interpreted in the piece through the use of extended techniques.